Ghostbusters Merchandise
Ghosts, gremlins, and every other mythological monster that goes bump in the night have all been haunting, hooting, and harrowing us for generations. Sometimes they're tricky as they ask you to say "Beetlejuice" three times. Other times, you can just feel them giving you goosebumps. Perhaps once, you'd call upon the might of a knight to confront a wailing specter or search for a local wizard to banish the baddies. Alas, there were no doctors skilled in dealing with them. So the locals would simply have to suffer whatever strange somethings were going on in their neighborhood homes.
But then, it was suddenly 1984 and the Ghostbusters arrived on the scene. Veritable comic heroes with weapons that look a bit like toys, all powered by mad science! It was time to smile, even in the face of gooey ghosts. The Ghostbusters have had many evolutions over the decades, but you can be sure that they are always ready to answer the call. Whether you're a kooky family of Munsters or a down-to-Earth crew more like the Addams Family, you can bring as much Ghostbusters fun as you like into your home, thanks to our collection of officially licensed Ghostbusters merchandise!
Ghostbusters Accessories
When you're looking for the right gift for a geeky kiddo or a friend with the perfect dose of '80s style, you can't go wrong by helping them gear up with Ghostbusters stuff! You'll find an assortment of trendy apparel that makes for great Ghostbuster gift ideas as well as a collection of adult and kid's Ghostbusters socks that will scare off even the most spectral of chills! Combine your normal wear with some of our Ghostbusters costume accessories, because everyone knows that strapping a licensed nuclear accelerator to their back is a fantastic way to give a real gift for Ghostbusters fans! Take a look at this collection of Ghostbusters stuff to inspire the perfect gift for you and yours!
Ghostbusters Backpacks
Getting ready for an adventure requires that you have all the right equipment. And, if you can't carry around a nuclear-powered device on your back, the next best thing is an awesome backpack that features the look of the iconic proton pack! Stuff all your best Ghostbusting gear inside... or even some back-to-school goodies.
Ghostbusters Shirts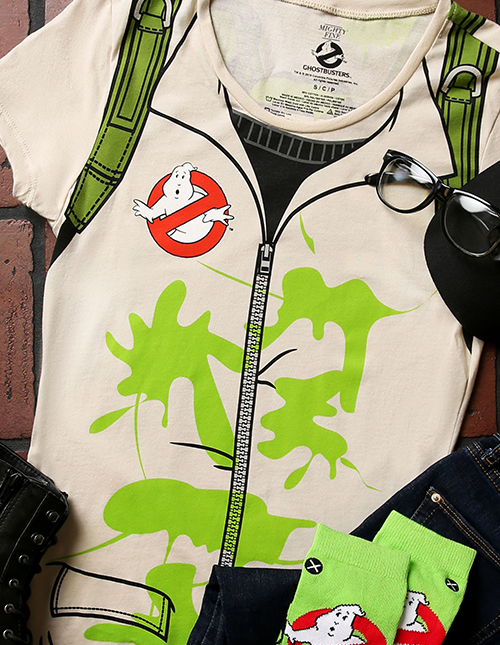 Uniforms can get stuffy. That's true even if you're talking about the official garb of the Ghostbusters! When you're not actively running around in haunted libraries or climbing up a certain classic statue, you can still be part of the team without a sweat! All you need is a Ghostbusters T-Shirt that shows your fandom on your sleeve.
Ghostbusters Proton Pack
When a regular bag isn't enough for your needs, be sure that you have the genuine look of an official Ghostbusters Proton Pack. There are several exclusive varieties to choose from. Some that act like backpacks with convenient pockets for your ghosty gadgets. Others light up and shriek whenever you activate them. One for every mission!
Ghostbusters Ghost Trap Prop
Did you ever wonder what the 'Busters do when they finally capture one of their ghosts? Some say that the Containment Unit is like a big bottle of ions that keeps the creeps from escaping. Others think it is an extra dimension entirely. But it all starts with the Ghost Trap. That's why it's critical that every Ghostbuster keeps one buckled up at their side!
Ghostbusters Collectibles
Not every Ghostbusters gift has to be worn on your sleeve just to show how much you love the movies, shows, and video games! We have plenty of ways that you can display your geeky fandom right around your home. Give your kitchen a haunted edge without actually inviting any specters to muck up your place. (We saw what that phantasmal force did to Dana's cooking area!) Decorate your den with some exclusive Ghostbusters merch that you may not find anywhere else, or give a collectible as the very first cool Ghostbusters gift a friend may need for their housewarming. (There's nothing quite like knowing you have a friendly Marshmallow Man keeping their sweet treats safe!)
Funko Pop! Ghostbusters Figures
Everyone loves Funko. It's right there in the name! They're cute. They're collectible. And when you combine them with your favorite fandoms like Ghostbusters, you can even bring your favorite movie moments to life. Find each and every one of the Ghostbusters gang when you start with our collection of Ghostbusters Pop! figures.
Ghostbusters Decorations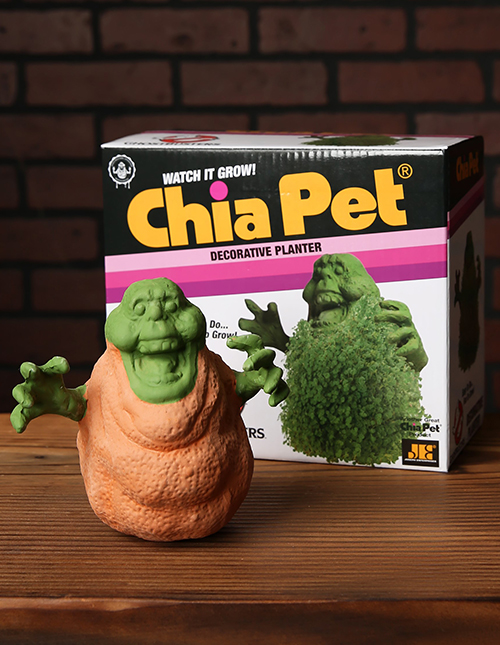 Whether you're hosting a ghost-themed party, putting together the ultimate movie marathon, or need to design a conference room or two with one of the best themes out there, who ya gonna call!? Well, unfortunately, the Ghostbusters themselves aren't much for decorating rooms. That's why you can check out our Ghostbusters décor!
Ghostbusters Party Decorations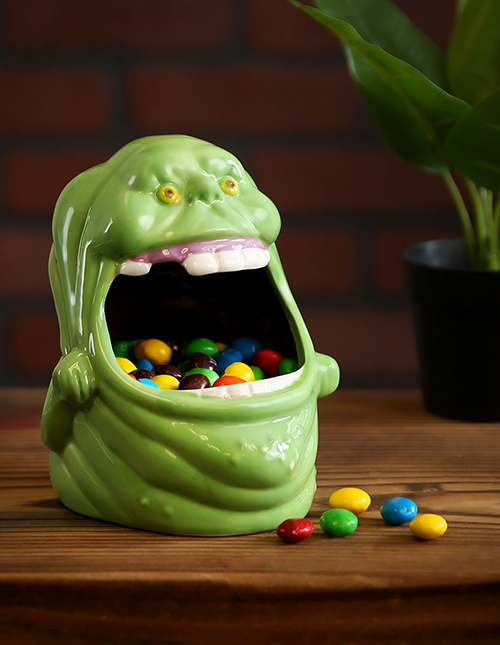 Remember when your kiddos asked for a birthday bash that was unlike any other? (Remember when you still wanted that same kind of excitement even as an adult?) Fortunately, there's no end to the fun when you call on the surprise of a Ghostbusters Party! Naturally, you'll want to deck the halls with all the best Ghostbusters party stuff!
Ghostbusters Memorabilia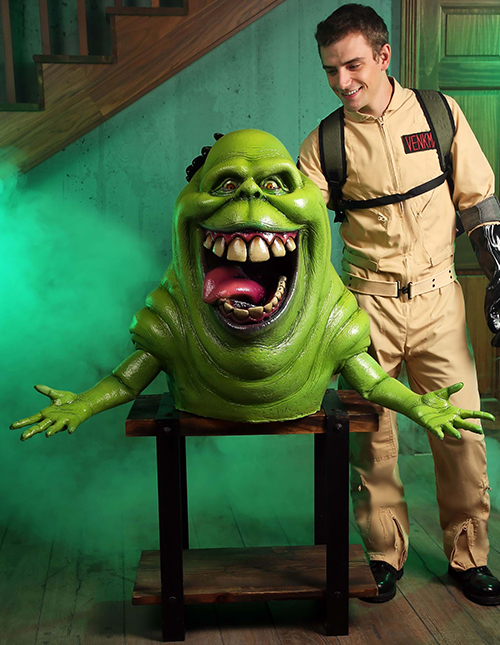 Do you remember your favorite line from a Ghostbusters movie? Do you find ways to quote it whenever possible? (We sure do.) We all know to say Yes when weirdo demons ask us if we are gods and we definitely know how to pronounce a name like Vigo. How? Well, when you have all of this memorabilia to keep it fresh in your mind, you can't lose!
Original Ghostbusters Toys
Let's be honest. Some folks join up with the Ghostbusters because they are interested in parapsychology. Others just want to find some proof that the Supernatural exists at all. Some need a decent paycheck or prefer the unique work hours available in the ghostbusting occupation. But really, the thing that brings everyone to team up and take a ride in Etco-1 are the toys. These go well beyond the standard STEM inventions because we're dealing with high science, mysterious physics… the kind of theory that Doc Brown and Sheldon Cooper could only dream of! Now you and yours won't need to get your doctorate just to fire up one of these babies. Take your pick of our collection of the coolest Ghostbusters gifts out there: noisy, flashy, inventive (and sometimes cuddly) Ghostbusters toys!
Playmobil Ghostbusters Toys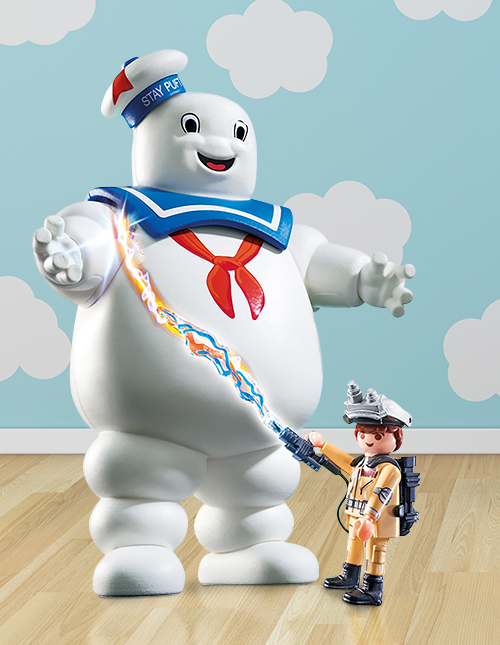 Some of the best stories from Ghostbusters aren't the ones that we've seen in the movies. They're the ones that we can create ourselves. All it takes is bringing your favorite characters together and putting them into some really spooky situations. Fortunately, Playmobil and Ghostbusters combine to conjure up really big smiles!
Ghostbusters Plush Toys
Folks usually assume that ghosts are scary, slimy, or even scaley. (You did see those Terror Dogs, right!? What's up with those!?) But we're here to tell you that ectoplasmic entities come in all shapes, sizes, and textures, too. If you want to hunt down some ghosts to cuddle them rather than trap them, look no further than our Ghostbusters stuffed toys!
Ghostbusters Proton Blaster Toys
Whether snacking or spooking, ghosts can create quite a mess of a day. We'd like to hope that they'll always be on their best behavior... but let's just say that they are spirited for a reason. When it's time to strap on your boots and jump into your jumpsuits, be sure that you have your Ghostbusters toy weapons, too. (They're the flashiest part of the gear!)
Ghostbusters Ecto-1 Sets
We all know who we call when there is something strange in the neighborhood. But what are the Ghostbusters supposed to call when they need a little extra help!? Every group of heroes needs a car emblazoned with their logo, so you can be sure that they're dialing up the Ecto-1! With our Ghostbusters Ecto-1 toys, you'll always have the wheels you need.