Marvel's Spider-Man Gifts
It's time to save the neighborhood, maybe even the world (at least if Iron Man has anything to say about it). Naturally, everyone is going to turn to Spider-Man. He and the rest of his Spider-verse of allies might be the only folks with the supernatural abilities necessary to save the day...not to mention the quirky sense of humor to make the whole process entertaining! But what's a spider to do without the geeky gadgets necessary to bring home the win?! Well, have no fear! We're happy to step in as the support team with our line of Spider-Man gifts! Now, we might not have the sci-fi tech to get you actually web-slinging yourself across the city, but we do have a ton of Spider-Man merch that will bring your favorite comic book character to life. Scroll through our list of unique Spider-Man gifts to locate the perfect thing to bring your friendly neighborhood Spider-Man to life!
Spider-Man Toys
Just think how excited Spider-Man gets every time he puts together some new gadget! Inventing those web-shooters was definitely a win that would have him writing home about. (Well, assuming that he was going to tell Aunt May about the invention.) Naturally, the first step is playing around with it, though! We know that Spider-Man isn't above hanging in his room and testing out his new toys, and we don't think that you or your family should feel embarrassed about it, either! We've all been there. You spot your kiddo playing with a cool new gizmo and start dreaming up your own story. Well, there's no shame in wanting to join in the fun! These Spider-Man toys might be designed for kids to enjoy, but they're just as fun for the adults! (If nothing else, you can pretend you're just keeping the kiddos company!) Take a look at our collection to add to your own collectibles.
Cool Spider-Man Toys for Kids
We'd say that kiddos love to play superhero, but that's just a fact for everyone. Still, when you get a couple tykes together and hand them fun Spider-Man tech, the fun is always better. A pair of walkie talkies let your kids plan their epic strategy while Spider-Man themed flashlights make sure that sleepovers are a dream come true!
Spider-Man Toys for Toddlers
While the youngsters are still figuring out what kinds of toys they really love, you can give them an early hint with these Spider-Man gifts for toddlers. We carry Marvel plushies that make for huggable friends during those troubling naps, and have Spider-Man games to pool time accessories to keep them entertained during the day!
Spider-Man: Far From Home Toys
Nobody is totally comfortable leaving the house for a long time. We want to bring a few things that give us the safety of home! Fortunately, whenever you have to go Far From Home like Spider-Man, we've got everything from LEGO sets to action figures to make the trip more fun.
Best Spider-Man Gifts for Adults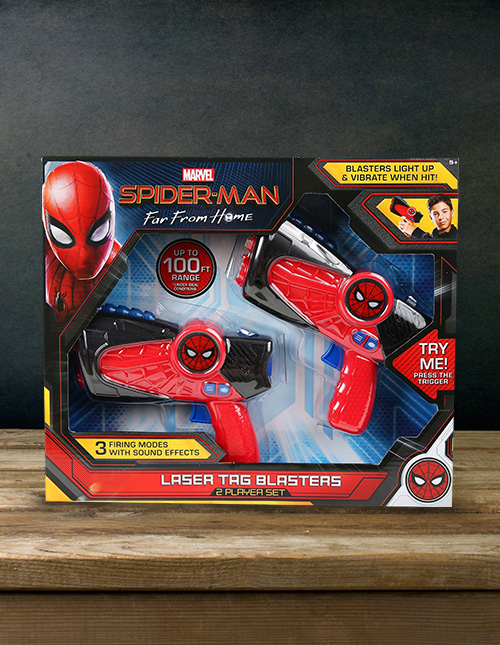 Don't let anyone suggest that Spider-Man toys are just for kids. (What do they think these are, breakfast cereals?!) When you're looking for a Spider-Man gift for adults, you need look no further than our Nerf and laser-tag guns! Let everyone in on the fun. (Or better—surprise them!)
Unique Spider-Man Gifts
Spider-Man isn't your typical superhero. He's got a quirky attitude and a great sense of humor that has kept him topping the popularity charts since the 1960s. In fact, he's slinging shade at the villains of New York even more often than he's shooting webs at them! Since he's such a unique character, it's pretty important to have equally unique and funny Spider-Man gift ideas! It all starts with picking out your favorite Spider-Man theme. If you're talking about a birthday party with your friendly neighborhood superhero, you can put a spider web spin on that old tail on the donkey game. (There's nothing like some web-like gauze for a blindfold, and it's much more fun to pin eight legs instead of one little tail!) Stretch your imagination and make a marvel at home with décor options that will have folks wondering which universe they came from! Take a look at our funny Spider-Man gifts to start the smiles!
Spider-Man Bedding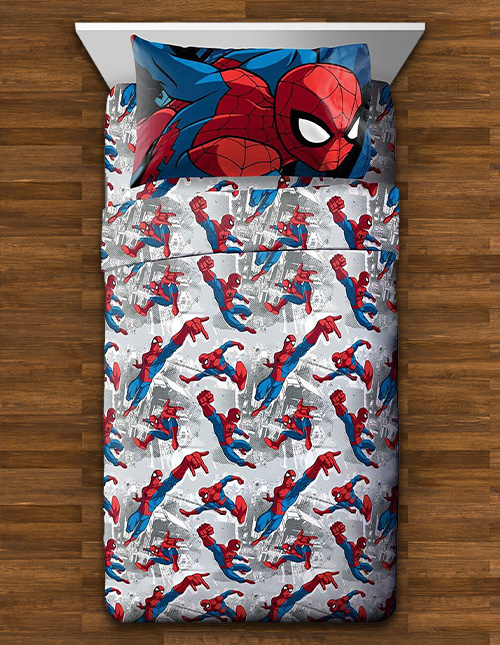 In order to feel like a real superhero all day, you need to have a good rest. That means more than just taking down the villains. It means having a comfy set of sheets to snuggle into at night. From comforters to pillow covers and the plushiest of blankets, Spider-Man bedding is a winner!
Spider-Man Home Décor
You've been hearing all your life that the fastest way to a geek's heart is through their tummy. Well, it turns out that you can get there even faster when you decorate your home and kitchen with the right Spider-Man décor and appliances. No one has ever rejected a Spider-Man waffle!
Gifts for Spider-Man Lovers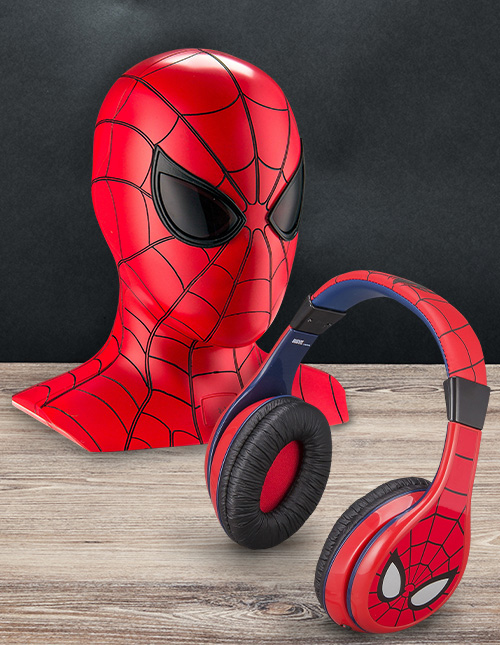 If you've got a friend who just lives for Spider-Man, you might note that everything about them is on that theme. Before they run out to get a full tattoo—or especially afterward—choose some of our cool Spider-Man gifts that put a Spidey skin on their favorite electronic devices. From Bluetooth headphones to automotive decals, Spider-Man looks great on everything.
Spider-Man Gift Box
Have you ever thought of throwing a Spider-Man themed party? With all of the great movies and board games out there, it would be an instant win! But you wouldn't want to just have the place decorated in webs and Marvel colors. You can keep the fun going long after the party when you pick out several small Spider-Man gifts on sale with our Spider-Man gift bag ideas.
Spider-Man Funko POP! Figure
What are Funko POP! figures, anyway? If you haven't already heard of them, they're likely about to be your very best friends. These adorable figures are among the cutest collectible figures that have ever been made. Big heads on little bodies with a seemingly simple artistic design, they've got a knack for bringing all of your favorite characters to life right in your own home. Keep them in their boxes or set them out in stylish scenes! There are thousands to pick from. But when you're talking about Spider-Man Pop! figures, the whole world expands. We've got the Gamerverse Spider-Man figures that your video game fanatics will flip for, to start with. Then there are additional versions of Spider-Man from other corners of reality. And everything gets really interesting once Venom gets his symbiotic tentacles in on the fun. Take a look at our variety of Spider-Man Pops! and boost your collection to superhero levels.
Spider-Man: Into the Spider-Verse Funko POP!
The universe can be a pretty weird place. We're all used to Peter Parker, but it turns out there are a ton of other Spider-folk dwelling in different realities. When you jump into the Spiderverse to meet some new friends, you better have a solid guide or you might forget who comes from where! Fortunately, our Spider-Man Pop! vinyls include several Spiderverse folks!
Spider-Man: Far from Home Funko POP!
From creepy elemental beings to masterful illusionists who put regular magicians to shame, Spider-Man: Far From Home provides a whole host of new Funko figures that we can't get enough of. Playtime with the Avengers was fun and all, but it is time for this Spider-Man to meet a bunch of new friends and fiends. Collect them all before they stealth away into the night!
Wearable Spider-Man Merchandise
Sometimes you just want to wear your love for Spider-Man on your sleeve. It might not be enough only to display it on the mantlepiece. That's where you need to turn to cool Spider-Man gift ideas that will also keep your friends and family warm at night and snuggled in for their favorite Marvel movie marathons. Naturally, we're talking about all things Spider-Man attire! The only question is what style of Spider-Man you'd like to show off. Not only are there Spider-folks from all over the Marvel multiverse, but you've got a ton of options in terms of fashion, too! (We can't all be Spider-Gwen and look fantastic in anything...or can you?!) From comfy hats and cozy pants to the blissful combination of sweaters, sunglasses, and Spider-Man sleepwear, you'll find a bit of the friendly neighborhood hero in every look you like. Rock Spidey couture out on the town or sling in the fun while you're at work with a FUNSuit!
Spider-Man Halloween Costumes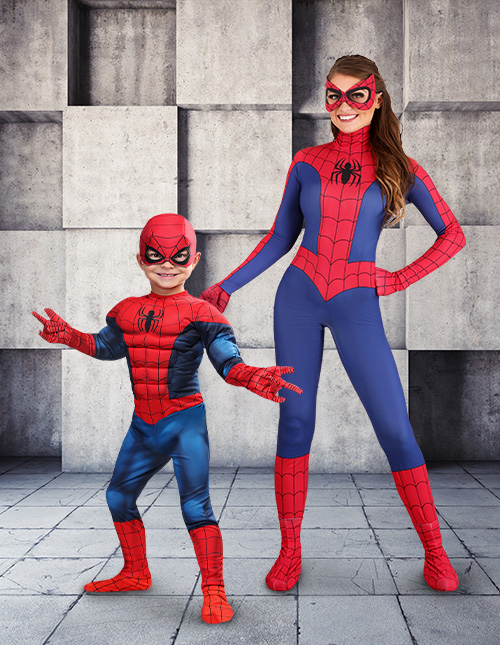 The first step in becoming Spider-Man is finding a friendly, radioactive arachnid to give you a little nibble and transform your very DNA into a superhero. Turns out that is not as easy as it sounds. (And it already doesn't sound very easy!) Maybe the best give you can give instead is a Spider-Man costume so your friends and family can feel and look like the epic hero instead. We have a ton of different Spider-Man costumes for adults and Spider-kids that will make that dream a reality. You might say we have a whole Spiderverse of costumes, in fact!
Spider-Man Clothes
If you'd enjoy a night out on the town without a bunch of iconic villains chasing you down, you can channel your inner hero with some of our Spider-Man clothing. Lounge around and relax with some of our Spider-Man sweatpants. Join the rest of the Spider-folk by leaping head-first with our Into the Spider-Verse clothes. Show your love for Spider-Gwen. Wear a comfortable mask with a Spider-hoodie. Or just go completely casual with one of our many Spider-Man t-shirts! There's no limit to the fun in these Spider-Man looks.